Contour Pro Revealed Edge
The ribbed texture complements any decor while minimizing light reflectance. The sculpted form creates a three dimensional design which extends beyond the grid to create a visually spacious interior. A great choice for public lobbies, conference rooms, offices, galleries, libraries, resorts, schools, churches and restaurants. Available in white; 2′ x 2′ only.
78000: 2×2 Contour Pro Revealed Edge Panel in White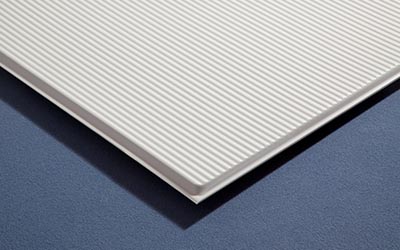 Stucco Pro Revealed Edge
This style offers an upscale sandstone look with a tegular edge. Lightly textured surface provides attractive finish with excellent light reflectance and durability. This style is perfect for education, retail, malls, offices, healthcare, restaurants, airports and reception areas. Available in white and black; 2′ x 2′ only.
77000: 2×2 Stucco Pro Revealed Edge Panel in White
77007: 2×2 Stucco Pro Revealed Edge Panel in Black