The new Genesis Acoustic Series has been engineered to address the need for acoustic control in a high-performance, water-&-mold-resistant ceiling tile. These 0.028-inch thick panels are micro-perforated to provide a significantly higher Noise Reduction Coefficient (NRC) than our Genesis Standard or Designer Series ceiling panels.
Perfect for retrofits or new construction, these panels easily install under old, damaged ceiling tiles to provide a new look, acoustic control and lifetime value. When combined with an existing fiber tile or our polyfiber batting, the NRC achieves an industry standard of 0.45 to 0.65.
Key Features and Benefits
Rigid PVC, Thermoplastic, vacuum formed micro perforated panel
ASTM E 84 Class A Fire Rating
Made in USA
Industry standard NRC is about 0.45
Minimal labor cost – no removal and disposal of existing tiles & no facility downtime
Avoid replacement of tiles when modest leaks occur, typically caused by condensation from plumbing pipes in plenum
Provide acoustic value, with the surface performance of our Genesis tiles
Rust and corrosion resistant, will not harbor mold or mildew
Surface area and diameter of holes make tile more aesthetically pleasing than the standard perforated tiles
A fraction of the cost of metal perf tiles
Corrugated
Corrugated panel is designed to look great while providing acoustical control. The corrugated style imparts rhythm and elegance to any interior space. Available in White, 2′ x 2′.
71001: 2×2 Corrugated Panel in White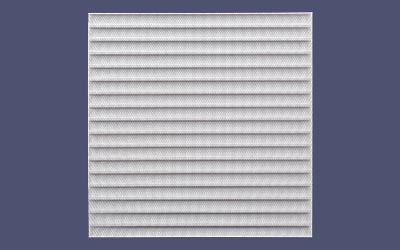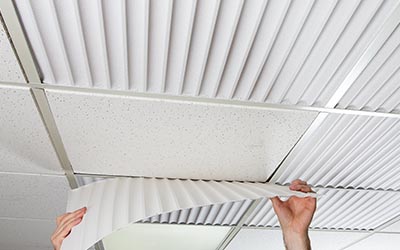 Microperforated Revealed Edge
Microperforated Revealed Edge provides the architectural styling of a tegular panel while providing acoustical control and high performance. Tile is washable, waterproof and moldproof. Available in White, 2′ x 2′.
70001: 2×2 Microperforated Revealed Edge Panel in White